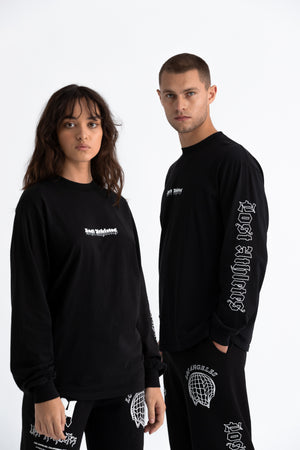 Black Palms Long sleeve tee
Premium crew neck Long sleeve T-shirt with vintage inspired logo printed in house in Sydney, Australia.
This T-shirt is made of 100% USA cotton, this textile is beefy, durable, and absorbent, and is virtually shrink free as a result of garment dyeing. The garment is washed with natural enzymes, resulting in a broken-in feel, just like a T-shirt that was washed or worn for a decade or two. Its special features include its heavy and sturdy feel and combined with a more generous fit and higher neck line.
This product is 100% Made in U.S.A. and NAFTA compliant. Made in South Central, Los Angeles. Our experienced seamstresses earn an average up to $20 an hour or more and no less than $15. Plus benefits and overtime.
• Unisex
• Made In U.S.A.
• 6.5 oz/yd2
• 18/1 open end cotton

100% Cotton
Our Male model was 190cm and wore Large
Our Female model was 178cm and wore Small
- For fitted look we recommend sizing down
- For oversized look we recommend sizing up
Sizing chart 
               Body Length          Chest Width          Sleeve Length

S              271/2 in.                  19 in.                     241/4 in.
M             281/2 in.                  21 in.                     245/8 in.
L              291/2 in.                  23 in.                     247/8 in.
XL           305/8 in.                  25 in.                     251/8 in.