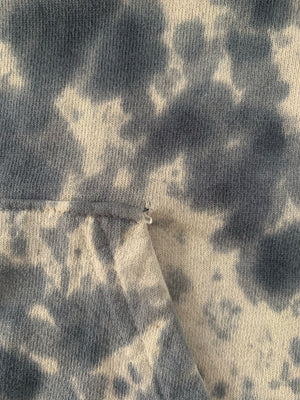 Freedom Vintage wash Tie Dye hood
Inspired by the ocean, the sky and our sense of looking forward to adventure and hope in the future we welcome our vintage wash tie dye hood. 

Our vintage wash hood is a premium garment that is 100% cotton and Made in LA. 
Using our unique hand dye and wash process in Australia to give this jumper a one off look and authentic vintage feel. Custom distressing around the pockets completes this vintage look.
*THIS IS A DISTRESSED JUMPER. DUE TO THE PROCESS INVOLVED WITH WASHING AND DYEING THESE HOODIES, THERE MAY BE SLIGHT DISTRESSING ON SLEEVES, HOOD AND POCKET INCLUDING SOME SMALL HOLES - REFER TO PICS 
- Unisex
- Made in USA
- Printed in Aus
- Unique Hand dye and wash process in Aus
- Pre-washed for a no shrink fit
- 100% cotton
Our male model is 190cm and wore an XL - refer to instagram
Our female model is 178cm and wore a M for fitted and L for oversized - refer to instagram
Sizing slightly smaller. 
For fitted look we recommend staying true to size.
For oversized look we recommend sizing up.
SIZING CHART
Body Length        Chest Width        Sleeve Length
XS        251/2 in.               181/8 in.                   23 in.
S          261/2 in.               201/8 in.                 231/2 in.
M         273/4 in.               221/8 in.                 237/8 in. 
L          287/8 in.               241/8 in.                 243/8 in.
XL          30 in.                 261/8 in.                  25 in.
2XL     311/8 in.                281/8 in.                 251/2 in.